GREAT LIFE GLOBAL NEWSLETTER
MAY 2022
Hello from Jane and Lino


As we compose this issue, America has endured yet another mass shooting. Though these tragedies have occurred throughout time and in all countries, now the gun violence is even more prevalent and tragic.

Understanding and overcoming personal anger and violence is the theme of this Spring newsletter. We will offer real solutions to better nourish the body organs that influence anger, criticism, prejudice, and resentment. We also share many effective and proven methods to release the destructive tension of personal anger.

Enjoy Power Food recipes, an iconic folk song, and explore America's National Parks... all to create a more healthy and peaceful joy of life. –Jane and Lino Stanchich
IN THIS ISSUE OF THE
GREAT LIFE NEWSLETTER
• Calming Anger - Finding Peace
• America's Glorious National Parks
•

Your Gall Bladder Wellness Guide
•

The Umeboshi Plum & Recipes - Debi and Tom Athos
•

Bruce Springsteen Sings the Woody Guthrie Classic
•

10 Minute Yoga to Relieve Anxiety and Stress
• Online Macrobiotic Summer Conference 2022
•
Lino's "Energize Yourself with Do-In" Self- Massage DVD
THE GALL BLADDER ~ AN INTRODUCTION

In each season a specific organ and its partner-organ come to the forefront and require our attention, extra care, and healing. In the Spring, the body organ pair is the Liver and its partner, the Gall Bladder. A small, pear-shaped organ on the right side of your abdomen, the all-important gall bladder is just beneath your liver.


The gall bladder stores the vital digestive fluid called bile, produced by the liver. Bile is then released as required, into your duodenum, the first part of the small intestine. Acting as a "soap dispenser," the gall bladder ejects this greenish alkaline bile to emulsify dietary fats, much the same way as detergent cleanses the grease from our dishes.





SIGNS AND SYMPTOMS


If we eat excess fats and processed foods, in time, gall-stones may develop and block the bile ducts. A malfunctioning gall bladder may result in one or more of the following chronic, painful, or severe symptoms:

• Headache in the back of neck
• Sensitivity to odors
• Frequent criticism of others
• Irritability or anger
• Pain/pressure around or behind the eyes
• Pain encircling the head as a vise
• Migraine symptoms
• Painful digestion
• Frequent nausea
• Sharp deep pain in the upper right abdomen
• Fever
• Yellowish tone to skin and eyes (Jaundice)



If you experience painful symptoms, fever, or discomfort, discuss them immediately with a health professional or medical doctor to receive a diagnosis and discuss causes, remedies, and treatment.

Further information about the Gall Bladder and our recommended diet will be included in the coming (June) Newsletter.



GALL STONES


Sediment in the gall bladder can develop into small, then larger stones that can block the bile ducts. This painful condition is most common in "modern" countries with high fat diets. An Utra-sound or MRI can detect gallstones often resulting in gall bladder surgery. Due to gall stones, around 460,000 U.S. residents a year have their gallbladder surgically removed (cholecystectomy.)

David Efron, M.D., Chief of Acute Care Surgery at Johns Hopkins Hospital has written:
"Gallstones are fairly common in Western countries because our diets have more processed and fatty foods. Many of us are walking around with gallstones and don't know it. Some of those substances, such as cholesterol, can pack together and form gallstones ranging in size from that of a grain of sand to a golf ball." *
*Johns Hopkins Medicine/Gall Bladder Attacks/Hopkinsmedicine
CALMING ANGER - FINDING PEACE
Holding on to anger is like grasping a hot coal with the intent of throwing it at someone else; you are the one who gets burned.


– Buddha

For every minute you remain angry, you give up sixty seconds of peace of mind.

– Ralph Waldo Emerson
Breathe. Let go. And remind yourself that this very moment is the only one you know you have for sure. – Oprah Winfrey
At times we all get angry… at other people, circumstances, news, or at ourselves. Hot anger sometimes wells up inside of us, searching, as a heat-seeking missile would, for a target. People can get hurt, sometimes for a lifetime. Anger is natural and can even be channelled in creative ways, yet can be destructive and dangerous to yourself or others. When anger is a daily or chronic occurrence or if anger is harming your relationships at home or work, it is time to find the cause, to release the tension, and to create greater peace and calm.

When someone is cruel, unjust, or abusive to loved ones or ourselves, anger can be justified. Anger also sometimes gives an individual the strength to combat a harmful situation. However, often anger is a reaction to a very minor incident. Anger is too often directed to young, elderly, or vulnerable people who cannot or will not retaliate. Others can be deeply hurt, sometimes for a lifetime. We can learn how to better handle conflict and how to communicate. Entire fields of study and support groups are devoted to Anger Management.

We live in extremely challenging and fearful times with the pandemic, violence, increased prejudice, insomnia, and alcohol abuse. Our modern diets include fast foods, poor quality, even harmful ingredients, with food eaten on the run, which contribute to emotional instability. How to have greater health and emotional balance? According to time-honored Traditional Medicine, the body organs that most influence anger are the Liver and Gall Bladder. Chronic and destructive anger can be powerfully transformed when these organs are in better health. Beginning from mind-body wellness within, transformation to a peaceful and productive life is possible.

The plant-based diet, in particular, the balanced macrobiotic diet, provides essential nutrients, fiber, freshness, and moisture that soothe and promote a healthy energy flow, wellness, more positive attitude, and calm. A typical American high fat diet, with daily animal foods, refined sugars, chemicals, processed flour, and salty snacks, take a toll on our health. . This diet, lacking in fresh, whole organic foods often contributes to congested organs, tight muscles, headaches, high blood pressure, and constipation…a more tight, contracted energy and mental attitude. Frustration, suspicion, fear and defensive anger may be the result as reflected in America's domestic and street violence, rage, hatred, racism, injustice, and murder that sscream from the headlines and tear at our hearts.

While not the panacea for all people, of course, we offer peace-promoting gifts. In addition to dietary guidelines, we present proven, natural approaches to creating greater calm, emotional control, increased compassion and love...one miraculous person at a time. May you find greater peace.

RELEASE ANGER AND ENHANCE CALM BY:

1. Meditating and Praying
2. Walking Outdoors for Oxygen and Exercise
3. Taking Alone Time: Silence, Rest
4. Practicing Deep, Slow Breathing
5. Journaling: To Release Feelings Privately
6. Counseling: Seek Professional Guidance
7. Finding a Meaningful, Supportive Occupation
8. Watching Pleasant, Uplifting Films/Avoiding Media Violence
9. Listening to Calm Beautiful Music (See below!)
10. Practicing Yoga, Tai Chi, Qigong,
Tennis, Swimming, or the Sports of Your Choice

NOTE: Please consult a mental health professional when anger is chronic, severe, or destructive to yourself or others. Report other's violent language, threats, or actions. Let us all vote to establish more safe and humane gun laws and mental health care for America.
10 Minute Yoga Flow to
LET GO OF ANGER AND TENSION
We like this video, a balance of Qigong Movements, Sun Salutation Flow, Child's Pose, Loving Acceptance, and Relaxation.
Take a Look and Try It: Click here >
WE LOVE THE UMEBOSHI PLUM!

Umeboshi is an absolute favorite seasoning in our large macrobiotic foods repertoire. Slightly tart/sour (good for the liver/gall bladder) and salty, sprinkles of the rich, pink umeboshi vinegar or bits of the whole plum are added to flavor and strengthen whole grains, vegetables, salads, delicious pickles, and to prepare highly effective teas and home remedies. "Ume" aids digestion and healing of our blood and cells.

We cannot praise umeboshi enough! Having produced them with expert Naboru Muramoto, in California in the 80's, we have an even greater respect for these plums as culinary medicine. Debi and Tom Athos's Natural Lifestyle Supplies' praise of Umeboshi equaled ours, so we asked the couple to share their beautifully illustrated article and recipes with us. Dragon Eggs, anyone? Thank you Debi and Tom!
GUEST ARTICLE - Organic Chef Tom
UME - SPRINGTIME SUPERFOOD
Umeboshi ~ Japanese pickled plums

are one of the most overlooked superfoods that belong in everyone's kitchen! Beneficial for everyday good health and adds a tasty tang to your healthy spring dishes. According to the traditional health wisdom of the 5 Element Theory, umeboshi is the perfect food for the spring because the sour flavor supports a healthy liver.
TRADITIONAL BENEFITS
of UMEBOSHI
Alkalizing the body.
Digestive aid.
Balancing immune system.
Headaches and hangover relief.
Reduces fatigue and stress.
Motion, jet lag, morning sickness remedy.

CULINARY USES
of UMEBOSHI

• Salad dressings. • Season broccoli and greens. • Spread on corn on the cob. • Tuck inside sushi, YUM! • Pickling vegetables. • Vegetable slaws and cabbage.
• Umeboshi energizing tea.
Guest Chef Recipe
Organic Dragon Eggs
These tasty "Dragon Eggs" are a huge hit with kids of all ages. They're super easy to make and can be filled with a simple piece of umeboshi plum for a pop of traditional sushi flavor.


INGREDIENTS

INSTRUCTIONS
Carefully tear each sheet of nori in half, then tear each half into halves.
Moisten your hands in lightly salted water, then gently but firmly form about ½ cup of the rice into a ball. Wet your hands as necessary to prevent sticking, but use as little water as possible. Continue until all 8 are finished.
Press your index finger into the center of the rice ball and insert ¼ to ½ umeboshi plum (depending on its size), or about ¼ tsp umeboshi paste. Seal the opening.
The outside of the ball may be rubbed lightly with umeboshi or miso for extra flavor. Umeboshi also helps preserve the rice and aids its digestion.
Using 2 squares of nori, cover each rice ball. At first, it may look a little ragged; set it down, wrap the rest, then come back to the first, and gently pack as you would a snowball.
You can make small dragon eggs for little ones. Growing up, our kids would eat just about anything if we put umeboshi plums, paste, or vinegar on or in it!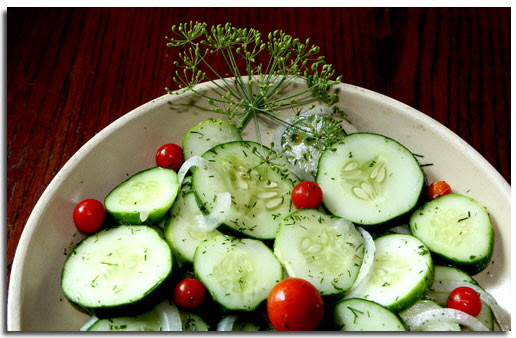 Organic Chef Tom's Ume Cucumber Salad




with Ume Vinegar



Our front yard urban garden provides a plentiful supply of fresh cucumbers for this refreshing and quick Ume Cucumber Salad. This recipe can be enjoyed as a toss and serve salad or marinated for an hour or more to mingle flavors and "pickle" the veggies more.



INGREDIENTS


2 cups organic cucumbers, sliced into 1/4 inch rounds
1 medium onion, sliced into thin rounds
½

tsp dry dill, or 1 tsp fresh dill, diced
½ tsp

dulse flakes, or 1 tsp chopped dulse
1 tablespoon

ume vinegar

INSTRUCTIONS

~ Any of the following 3 Ways:
1. Simply toss ingredients into a salad bowl, toss and serve.
2. Marinade salad for at least 1 hour or more to allow flavors to mingle and the cucumbers to soften and "pickle" from the ume vinegar.
3. Press Cucumbers by tossing ingredients in a bowl, add a plate that will fit inside the bowl. Add a heavy weight (a quart jar filled with rice or beans...) on plate. Allow to pickle for about 3 hours or overnight in the refrigerator.
OUR NATIONAL PARKS:
America's Greatest National Treasures

Ready for a Road Trip? America's local, state and national parks await you, your family, and friends. Breathe clean air, connect with nature, learn history, and get fit. Explore the wonderful National Park website below to discover amazing diverse places in your backyard!

Each park listing contains details about these:
Descriptions of the Park Locations
Reservation Information Camping and Lodging
Park Highlights Children's Activities
Maps, Weather Woodland Trails, Hikes,
Best Times to Visit Tours and Programs
Historical Landmarks Cultural Events, Legacies
Rare Wildlife Info Water Sports, Biking
Horseback Riding
Stargazing
Contact Information Volunteer Opportunities
Extra Links to innumerable details of each park.

Each US State has numerous national parks! Who knew? To use the amazing website of the NPS, click on your state or surrounding states and discover what national parks are available in your area. Be sure to study each park of your interest and make reservations. Parks can fill up. Passes are available. Most parks are open year round for great autumn and winter trips, too. Travel, breathtaking vistas, and fun activities are, of course, extremely healthy for body and mind!

THE FABULOUS
NATIONAL PARK SERVICE SITE:
https://www.nps.gov/findapark/index.htm

HINT: Even if you are not planning to travel to any of the parks now, take a look online at these amazing national heritage sites of immense natural beauty, history, and cultural significance! What a diverse country we have. Prepare for a "someday" or next year visit. Share this site with your family for their opinions. Reading about the many US parks is a trip in itself! Thank you NPS website for teaching us that adventure, beauty, and fun are in each state of our amazing country!

HINT #2: Watch Ken Burns' Documentary: The National Parks: America's Best Idea (Amazon.com)
THIS LAND IS
YOUR LAND
An American classic by Woodie Guthrie, sung by Bruce Springsteen, who calls it "about the greatest song ever written about America." Enjoy the beautiful American scenery as you sing along with this legendary folk song. CLICK HERE TO PLAY >
JOIN!
Online Macrobiotic Summer Conference
July 20-24, 2022
WINNER OF LINO'S DO-IN SELF - MASSAGE VIDEO "ENERGIZE YOURSELF!"
CONGRATULATIONS TO REBECCA GARLAND!
REBECCA WRITES:
At my first macrobiotic conference, I remember my first class of Do-In with Lino Stanchich. This was before breakfast and an absolutely fabulous beginning to a joyous life-changing experience. The time flew by with a teacher so full of vitality and humor. My cheeks were act

ually sore from the wide smile worn all through the class. Lino e

xplained about meridians and demonstrated with us the ease that we can access and improve these energy flows. We were all glowing on the way to breakfast.

Over the next years I've been privileged and blessed to have attended many KI macrobiotic conferences, and therefore had many opportunities to study with Lino. Usually, Lino taught these outdoors and encouraged us to be barefoot upon the earth, grounding ourselves as we improved our health.

I can see it so clearly- a beautiful day out on the grass, about 50 people lined up massaging the back of the person in front, as Lino led us through the points to stimulate and invigorate. Learning Do-In, the art of self-massage, with such an extraordinary, inspiring teacher enables me to lovingly take care of myself, and be energized every day!
–Rebecca Gurland, Author (Amazon), Connecticut

Energize Yourself! Do In Self Massage Digital Video is available

HERE >
OSTEO-ARTHRITIS HEALING PROGRAM


Includes Expert Personalized Counseling,Guidance, and Support This educational and effective program will help you understand,Jane and Lino Stanchich, Licensed Nutritionists,Authors, Certified Chefs, and Award-Winning Macrobiotic Senior Educators

Our Goal is for you to feel well, move freely,be pain-free, and live your best life!
YOU WILL RECEIVE:• A Private Personalized Consultation on Diet and Lifestyle Recommendations for OA • A Beginner's Manual and Detailed Dietary Check List • A Cooking Course including a Comprehensive Cookbook and Jane's full-color Cooking Video • Weeks of Support Materials and LiteratureOPTIONAL OA SUPPORT SERVICES:• Daily Journaling with Evaluations and Guidance • Weekly Check-Ins for Guidance, Support, and QuestionsContact us at 828-299-8657 or email: info@greatlifeglobal.com overcome or better manage painful OSTEO-ARTHRITIS (OA.) Help relieve the ache in your knees, hips, shoulder, hands, feet with natural, preventive, and drug-free methods!
TOPICS IN UPCOMING
GREAT LIFE NEWSLETTERS

• The Healthiest Diet for the Gall Bladder-Liver
• Acupressure for Headache, Neck Pain, and Gall Bladder
• Fabulous Healing Daikon with Great Recipes
• Improve Digestion and Reduce Fat and Cellulite
• LYME DISEASE: Pervasive, Dangerous, Debilitating
• Earthing and Forest Bathing...TREE-mendous!
• The Winner of

GO VEGAN!

by Marlene Watson-Tara
PROFESSIONAL COUNSELING
FOR YOUR HEALTHIER LIFE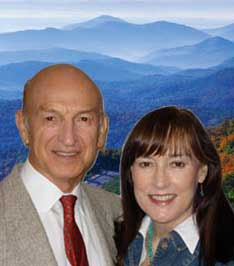 Jane and Lino Stanchich, Licensed Nutritionists and Certified Macrobiotic Counselors and Educators, are available for professional, personalized counseling for individuals, couples, and families...even pets. We provide expert online dietary educational guidance for disease prevention and weight control, as well as revitalizing exercise recommendations. A four-page Detailed Dietary and Exercise Guideline, our unique Macrobiotic Beginners Manual, books, sea salt, and personalized phone/internet follow-up support are invaluable keystones of our highly effective individualized counseling programs.
Contact us at 828-299-8657

and info@greatlifeglobal.com

FORWARD OUR FREE NEWSLETTERS
TO YOUR FRIENDS AND FAMILY. INFORMATIVE PAST NEWSLETTERS ARE ARCHIVED ON OUR WEBSITE ALSO:
http://www.greatlifeglobal.com/resources/newsletters.html



HEARTFELT THANKS TO LESLIE SIMON FOR HER EDITING SKILLS AND TO DEBI ATHOS FOR HER DESIGN AND TECHNICAL TALENTS. LOVE YA BOTH!
Copyright © 2022 Great Life Global
All rights reserved.
You are receiving this email because you opted in at one of our seminars, workshops or on our Great Life Global web site. Thank-you!
Our mailing address is:
Want to change how you receive these emails?
You can
update your preferences
or
unsubscribe from this list
.