HONORING WOMEN WHO
PROMOTE A HEALTHY DIET and PLANET
In this newsletter honoring the International Women's celebration, we focus on women who courageously promote plant-based nutrition, healthy foods for children, fitness, and athletic performance. Read about the vegan and plant-based diets of FAMED FEMALE PHYSICIANS, as well as JANE GOODALL, BEYONCE, ARIANA GRANDE, and SERENA WILLIAMS! We highlight inspiring, respected women who have healed so-called "terminal" cancer with the macrobiotic diet. Thank you to all who have taught and supported the worldwide movement to greater natural wellness of body, mind, and spirit and ecology through a balanced plant-based or vegan diet.

THANK YOU FEMALE FRIENDS, STUDENTS, and COLLEAGUES!
Lino teaches, "The future of the world is in the hands of women." As a boy in Europe during World War II, he was cared for and protected by strong, resourceful women. Lino understands the power of Female Energy. Together, we send our deepest gratitude to each female family member, friend, teacher, counselor, author, athlete, and artist who has touched our lives positively and shown us the love, support, and power of their courage and commitment. To stand for world wellness, to be outspoken, to go against the tide of disease, and through it all, to love as only a woman can, is a gift to humankind.
Lima Ohsawa Cornelia Aihara Aveline Kushi
REVERED MACROBIOTIC EDUCATORS
We specifically honor the Japanese women who were originators of the Modern Macrobiotic Movement. We are deeply grateful for their unique commitment, dedication, and courage. These four beautiful Asian women came to America and traveled the world, teaching and inspiring people to adopt the macrobiotic plant-based diet. With carefully crafted culinary skills, these women created powerfully healing dishes that were highly nutritious, delicious, and beautiful. Because of their tireless work, the healing macrobiotic foods that they introduced through their classes and books have now become mainstream around the world. We thank them and others for being so visionary and generous of spirit.
FEMALE PLANT-BASED PHYSICIANS
MARTHA COTTRELL, MD
One of the world's preeminent and pioneer female physicians, Martha "Maggie" Cottrell, M.D. is a revered doctor, author, and counselor who highly respects and practices the principles of Macrobiotics and the Plant-Based Diet. Vibrant, articulate, lively, in her ninth decade of life, Maggie has seen America through our dramatic events of wars, social revolution, and medical reformation, spanning the 20th century to today. Traveling Europe and Africa with Michio Kushi to present medical research to world renowned audiences, furthering the cause of treatment of AIDS with diet and lifestyle, Maggie co-authored AIDS, Macrobiotics and Natural Immunity with Mr. Kushi. Also known as "Doc Maggie," this female treasure lives an active life, writes, and influences new generations with her knowledge, expertise, and humor as she promotes natural wellness, social justice, and animal rights.


SHERRY ROGERS, MD
Dr. Sherry Rogers is a vibrant physician, environmental illness and allergy specialist, author, and nutritional counselor who has been our teacher on many occasions, most recently the Holistic Holiday at Sea Cruise. Dr. Rogers is a consummate researcher who promotes and carefully documents vital dietary and medical information in her monthly newsletter. A long time proponent of macrobiotics and the organic plant-based diet, Dr. Rogers has authored numerous popular books including a cookbook with very creative, delicious recipes. She has insisted that her patients adopt the macrobiotic diet. You may access Dr. Roger's work at Prestige Publishing here >
VEGAN ACTIVIST for HUMAN RIGHTS, ANIMAL RIGHTS, and CONSERVATION

DR. JANE GOODALL
Dr. Goodall, famed scientist and activist, travels the world over 300 days a year, inspiring people to grow organic gardens, eat the ecological, nutritious vegan diet, thus saving wildlife and preserving the environment. Her early career, spanning the 1960's to the 1980's, took place in Tanzania, where she studied chimpanzees in the wild. (Humans differ from chimps by only 1% in our DNA.) She developed the dynamic " Roots and Shoots" school program for children to expand understanding about the natural world. Along with her focus on the vegan diet, Dr. Goodall promotes compassion for animals and people.
INTERVIEW WITH JANE GOODALL >
SOME OF THE MANY MACROBIOTIC
CANCER SURVIVORS
MINA DOBIC
Read Mina's brilliantly written and inspiring book, My Beautiful Life, to learn about how this former television journalist from Yugoslavia triumphed over stage IV ovarian cancer to become a top macrobiotic nutritional counselor in America. minadobic.org
CHRISTINA PIRELLO
Leukemia cancer survivor and prolific author, Christina Pirelli, MFN, is one of America's preeminent authorities on a healthier lifestyle utilizing natural and whole foods. This bright, free-spirited, vivacious redhead with a radiant personality delivers a much needed message to the world with her books and online classes. See GIVEAWAY of Christina's latest cookbook, Back to the Cutting Board sponsored by Natural Lifestyle Online Market below! Visit www.christinacooks.com
GAYLE STOLOVE
Gayle is a breast cancer survivor and longtime Florida friend who has a very successful macrobiotic cooking service with amazing, delicious food. She is a highly trained and compassionate macrobiotic counselor, an RN, and Massage Therapist! Her weekly newsletter is a must! And her website: whollymacrobiotics.com
WILDLY POPULAR VOCAL ARTISTS
WHO PROMOTE THEIR VEGAN DIET

ARIANA GRANDE
Graceful and immensely talented, Florida-born, vegan Grammy-winner Ariana Grande has been included on Time's 100 most influential people in the world (2016 and 2019) and on Forbes Celebrity 100 (2019 and 2020.) She is the first R&B-Pop solo artist to hold the top three spots on the Billboard Hot 100simultaneously. Grande has received two Billboard Music Awards, three American Music Awards, nine MTV Video Music Awards, and 22 Guiness World Records. Aside from music, Grande has used her platform to advocate for social and racial equality, as well as animal rights.
BEYONCE
Beyoncé is one of the world's best selling musical artists, having sold 118 million records worldwide. Also a respected film actor, Beyonce eats and promotes the vegan diet, utilized especially when she is in training for a concert, to benefit her fitness and appearance. The vegan diet and her generous philanthropy combine to reflect her deep concern for health, humanity, the environment, and social justice. She was named Billboard's Top Female Artist of the Decade. Beyoncé's accolades include 28 Grammy Awards, 26 MTV Music Awards, 24 NAACP Image Awards, 31 BET Awards, and 17 Soul Train Music Awards; all more than any other singer. She was included on Time's list of 100 women who defined the last century.
ATHLETIC CHAMPIONS
SERENA WILLIAMS
You know this famed tennis champion and four times Olympic Gold Metal winner, who has credited her sister, Venus, with adopting a mostly vegan plant-based diet. Serena says that this nutritional change has brought her a tremendous health transformation from debilitating conditions to her present vibrant wellness and top tennis performances. The Associated Press named Williams Female Athlete of the Decade for the 2010s. "Serve" the legumes, whole grains, sushi, seeds, and salads to Serena who loves them…and let's enjoy them ourselves!
DOCUMENTARY
THE GAME CHANGERS


Watch eye-opening science-based
"THE GAME CHANGERS" documentary to learn how top Olympic champions have switched to a TOTALLY VEGAN DIET with truly amazing, positive results! Watching runners, cyclists, weight lifters out perform their past records with a plant-based, vegan diet is astounding and gratifying. The dietary program we have taught for decades is more valid and praised than ever. It leaves us all winners! Watch on Amazon Prime here >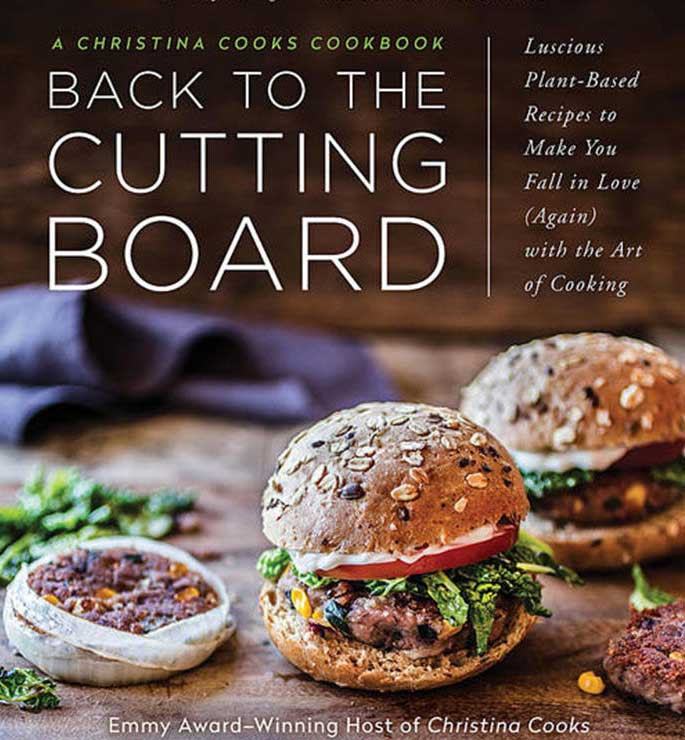 GIVEAWAY
CHRISTINA COOKS COOKBOOK
Back to the Cutting Board
Lucious Plant-Based Recipes to Make You Fall in Love (Again) with the Art of Cooking
by Christina Pirello

Thanks to our friends over at

Natural Lifestyle Online Market, we have a fabulous GIVEAWAY drawing for a copy of Christina Pirello's Back to the Cutting Board cookbook!

Christina

is a professional chef and Emmy Award-winning host of PBS's

Christina Cooks, Award winning author, teacher and chef. Her newest cookbook features more than 100 enriching plant-based recipes that pair the freshest ingredients with cooking techniques meant to optimize their natural, native flavors. With

Back to the Cutting Board,Christina invites the reader to take a step back and truly enjoy every step of the process of cooking great food. Finding joy in cooking has never been simpler!

You could be our winner!* ENTER HERE >
*You can enter via your email or through Facebook.

Your email will only be used to inform the winner of the giveaway. Entries are given for

visiting

Great Life Global

and

Natural Lifestyle's Facebook

pages. You can follow and like these pages if you want to stay connected via our social media, however is not required to enter into the giveaway. Just visit so you can check out our Facebook page and click "I visited" and you will receive 3 entries each.
COMING IN OUR APRIL NEWSLETTER
• Thriving During the Covid Pandemic:
How Wellness Experts Thrive during Covid
• Honoring Female Ecological Heroes
• Natural methods to keep pests away in your garden
• Growing Micro-greens
• Greens, Glorious Greens- Recipes for life!


COMING IN MAY:
"Memories of Mom."
Be included! Send a powerful memory of your mother or grandmother with a photo by April 30 to: This email address is being protected from spambots. You need JavaScript enabled to view it.


Jane's Extraordinary Mother, Frances


Two of our fabulous female friends offer invaluable help with this newsletter:
Leslie Simon, editor and Debi Athos, computer genius.
Thank you wonderful friends!

JANE AND LINO STANCHICH, Licensed Nutritionists, Macrobiotic Educators and Authors, are available for online natural wellness consultations for men, women, couples, and families, nutritional information, cooking guidance, and menu planning. Contact us at

This email address is being protected from spambots. You need JavaScript enabled to view it.

or 828-299-8657.
Copyright © 2021 Great Life Global
All rights reserved.
You are receiving this email because you opted in at one of our seminars, workshops or on our Great Life Global web site. Thank-you!
Our mailing address is:
Want to change how you receive these emails?
You can
update your preferences
or
unsubscribe from this list
.